Song History
A brief history of the most requested songs on Old Friends Radio.
Ain't Misbehavin'
Thomas Waller, Harold Brooks, and Andy Razaf.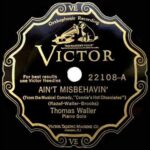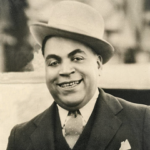 Thomas "Fats" Waller wrote the score to "Ain't Misbehavin'" on a miniature piano while in alimony jail. The music was later added to by Harry Brooks with lyrics by Andy Razaf. Fats told a reporter that he was not "misbehaving" because he was jailed for non-payment of alimony. The happy tune garnered him a $250 payment when his lawyer sold it to a publisher. Fats was then able to pay his alimony and be free. The song went on to be featured in a Broadway musical comedy called "Connie's Hot Chocolates".
Fats recorded the song in 1929 and that year five other artists also released the song. It was recorded by Leo Reisman and his orchestra (with vocals by Lew Conrad), Louis Armstrong, Bill Robinson (with Irving Mills & his Hotsy Totsy Gang), Gene Austin (with Leonard Joy & his orchestra), and Ruth Etting. All six versions charted. Fats re-recorded the song with vocals for the movie Stormy Weather in 1943. It was this version that received the Grammy Hall of Fame Award in 1984.
"Ain't Misbehavin'" performed by Thomas "Fats" Waller – Click Here.
Georgia On My Mind
Hoagy Carmichael, Stuart Gorell.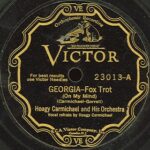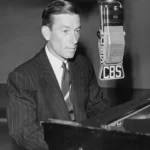 In 1930 "Georgia On My Mind" was written by 30-year-old Hoagy Carmichael with lyrics by his then-roommate Stuart Gorrell. Oddly Stuart's name was not on the copyright. Even so, Hoagy sent him royalty checks anyway. Hoagy actually had a sister named Georgia and there has been much debate as to whether the song was written about a woman or the state. Hoagy cleared up this issue himself in his second biography, "Sometimes I Wonder". He said that saxophone player Frankie Trumbauer told him that he should write a song about the state of Georgia and he even jokingly offered the first two words "Georgia, Georgia". Stuart took the lyric and ran with it. Hoagy recorded "Georgia on My Mind", with Bix Beiderbecke on cornet, in New York City on September 15, 1930.
While a multitude of artists have covered this song, native Georgian Ray Charles is best known for his version of it which came out in 1960.  His version went to number one on the Billboard Magazine's Hot 100 and in 1979 the State of Georgia designated the Ray Charles version the official state song.
"Georgia On My Mind" performed by Hoagy Charmichael – Click Here.
It's Only A Paper Moon
Harold Arlen, Yip Harburg, and Billy Rose.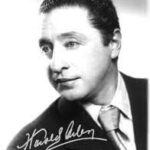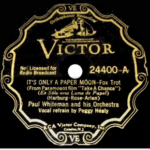 "It's Only a Paper Moon" was published in 1933 with music by Harold Arlen and lyrics by Yip Harburg and Billy Rose. It was originally titled "If You Believed In Me". The song was written for a Broadway play that was set in Coney Island called "The Great Magoo." While the "Great Magoo" turned out to be unsuccessful, the song had a life of its own.  When the song "It's Only A Paper Moon" came out, the Papermoon and the souvenir photo booth were an established vestige of Americana. Souvenir photobooths were popular in the first half of the 20th century and were common attractions on carnival midways as well as on Coney Island. They supplied backdrops of cardboard moons and cardboard seas. You could get your picture taken with your friend or sweetheart and it would be printed on a penny postcard, that you could send or keep.
In 1933 the song was everywhere. It was used in a movie called "Take A Chance" sung by Jules Knight and Buddy Rogers. Henry King And His Pierre Hotel Orchestra were the first to release it in September of 1933.  Paul Whiteman released his version in October of that year featuring Bunny Berrigan on trumpet and Peggy Healy on Vocals. This one became a hit. There was later a revival of the song during the end of World War II when it was recorded by Nat King Cole, Ella Fitzgerald, and Benny Goodman.
"It's Only A Paper Moon," performed by Paul Whiteman and His Orchestra – Click Here.
Lavender Coffin
Shirley Albert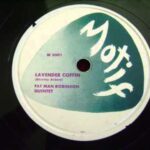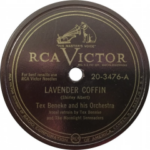 Lavender Coffin was written by Shirley Albert and first recorded in 1949. It was recorded in May by The Fat Man Robinson Quartet who were local artists in Boston. One month later Lionel Hampton and his Orchestra released the song on Decca. This version briefly graced the Billboard's Best Selling Retail Rhythm and Blues Record Charts at number 13 for the solitary week of August 27, 1949. The song was recorded by Tex Beneke And His Orchestra in July of that year as well with Tex and the Midnight Serenader on vocals.
On the B side of Lionel Hampton And His Orchestra's version is a cover of The Hucklebuck, a dance tune first popularized by Paul Williams and His Hucklebuckers in 1949, which was also covered by Lucky Millinder, Roy Milton, Tommy Dorsey, Frank Sinatra, Louis Armstrong, Chubby Checker, Bo Diddley, Otis Redding, and Quincy Jones to name a few.
"Lavender Coffin," performed by Fat Man Robinson – Click Here.
Mandy Is Two
Fulton McGrath, Johnny Mercer.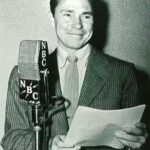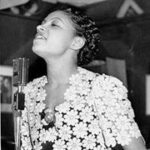 Mandy Is Two was first recorded in July of 1941 by Claude Thornhill and His Orchestra with a Vocal Chorus by Dick Harding. The melody was written by Fulton Mcgrath with lyrics by Johnny Mercer. In 1942 it was recorded by Bing Crosby with John Scott Trotter and His Orchestra and Guy Lombardo And His Royal Canadians. Billy Holiday's iconic version was not released on record until 1951 despite that she was performing it as early as 1942.
The subject of the song, Georgia Amanda "Mandy" Mercer (born 5/12/39) is the daughter of Johnny Mercer and his wife Ginger. She grew up in California but traveled extensively. As an adult, Mandy went to New York. She then met and married the well-known Jazz Pianist Bob Corwin in 1960 and had three children. She returned to California to raise them after her first marriage ended. Mandy left this earth on August 30, 2020, in Rancho Mirage California. Mandy was both a music publisher and a major philanthropist.  
"Mandy Is Two," performed by Billie Holiday and Teddy Wilson and His Orchestra – Click Here.
Skylark
Hoagy Carmichael, Johnny Mercer.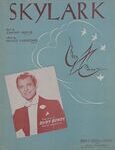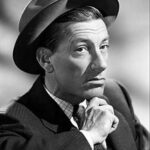 Skylark was first published in 1941 and first recorded in 1942, the melody being composed by Hoagy Carmichael and the lyrics by Johnny Mercer.
 The melody was originally based on a Bix Beiderbecke cornet improvisation for a failed Broadway project titled "Young Man With A Horn". Hoagy then gave the melody to Johnny who took an entire year to complete the lyrics. By the time he telephoned Hoagy to sing them to him, he had completely forgotten about the song. Johnny claimed to have struggled with the lyrics for a year. Many speculate that they were based on his heartfelt longing for Judy Garland.
Skylark became a jazz standard and a beacon to the lovelorn yet hopeful. Many artists have recorded Skylard including Glenn Miller, Harry James And His Orchestra, Dinah Shore, and even more recently numerous contemporary artists.
"Skylark," performed by Hoagy Carmichael – Click Here.
Click Here to Listen to Old Friends Radio, RIGHT NOW!